Quick Tips for Automotive Repair Shops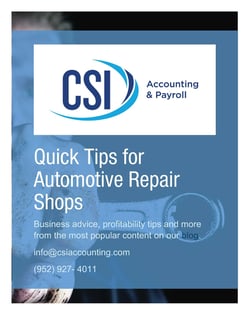 Business advice, profitability tips and more from the most popular auto repair shop content on our blog!



Topics include:
- Gross Profit Margins
- Labor Rates
- Online Reviews and Testimonials
- Average Repair Order (ARO)
- Car Counts, and more!


Download the Quick Tip Blog Series eBook for actionable steps to increase profits at your shop.


---
NOT WHAT YOU WERE LOOKING FOR? TRY THIS INSTEAD:

Small Business Accounting Checklist eBook
Think back to the days when your entrepreneurial vision started coming together, and ask yourself this question — what motivated you to build something from the ground up?
Do you know how often you should be performing different financial tasks to keep your vision on track? Daily, weekly, monthly, quarterly, annually... here's your guide to improving efficiency throughout 2022.
https://www.csiaccounting.com/small-business-accounting-checklist-ebook-landing-page