Matrix Pricing Templates for Automotive Repair Shops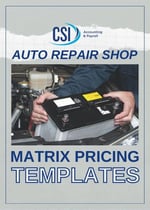 Matrix pricing is a system that uses multipliers to determine the selling price of a part used in a repair order. Successful auto shop owners implement matrix pricing on parts from the beginning, but it's never too late to start using the strategy.
If you're failing to price your parts accordingly, you may be losing out on thousands of dollars in potential profit year after year.
Many management systems have the ability to program a parts pricing matrix, but they're not always used to the fullest extent or not programmed properly based on strategic calculations.
Boost your shop's gross profit margins with our FREE template!
Over the past 50+ years, we've served many auto repair shops. The templates include tables we use to help our automotive repair shop clients see the benefits of matrix pricing: one for pricing aftermarket parts and one for using OEM parts from a dealer.
---
NOT WHAT YOU WERE LOOKING FOR? TRY THIS INSTEAD:
Small Business Profitability Checklist
How healthy is your small business?
The key to boosting your bottom line is keeping tabs on your finances. You need to understand where your money is going in order to streamline your organization and increase efficiency.
With this free checklist, you'll learn how to identify and calculate important metrics for your small business, including:
customer acquisition cost
customer lifetime value
break-even point
gross profit
net profit
total revenues
average revenue per employee
You can't improve what you don't measure. Download your copy today!